Century Home Improvements offers a variety of spouting and gutter options. This including a full range of standard 5-inch and 6-inch K style spouting, half-round seamless spouting, and traditional gutters, plus our new profile gutters. Spouting and gutters are available in aluminum or copper as well as a variety of stock colors. Special order colors are also available. All colors come with a 20-year finish warranty.
Gutter & Spouting Options to Match Your Home's Style
COLOR OPTIONS
Special order colors available! Call to find out more.
Beautiful New Profile Gutters!
In addition to traditional-style gutters, Century Home Improvements now offers profile gutters. Profile gutters give you the freedom to add a unique architectural element with a gutter profile that enhances the beauty and style of your home. Profile Gutter Systems are versatile and are the answer to bringing your rainwear installation to the next level and they add instant curb appeal. They set the final result apart from the common styles used by everyone else in the seamless gutter industry.
Century Home Improvements is one of the few, if not the only, installers in Central Pennsylvania that offers the Profile Gutter System. We will install on new construction and existing residential projects within 8 south central counties of Pennsylvania.
Add Gutter Helmet® and never clean your gutters again.
Gutter Helmet® keeps leaves and debris from entering your gutters by acting as a leaf filter, so you no longer have to climb a dangerous ladder to clean them out. Century Home Improvements has installed Gutter Helmet on more than 15,000 homes, and our team is Gutter Helmet certified, so our work and our warranty are good for life.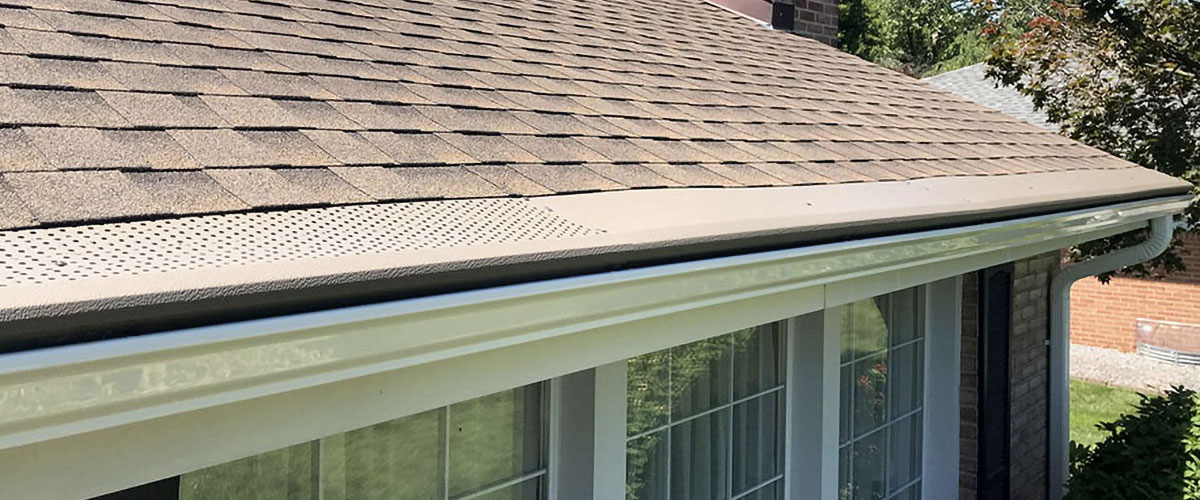 SPOUTING & GUTTER EMERGENCY
In most cases we can have a spouting and gutter expert to your home within 48 business hours to assess your needs and make a plan for repair.
Spouting & Gutter Repairs
Leaks
Missing components
Detaching from home
Extreme rust or failure
Century is equipped to handle all types of spouting and gutter repairs and general maintenance. Once you've experienced the skills and professionalism of Century, you'll never call anyone else.
SPOUTING AND GUTTERS – WHAT'S THE DIFFERENCE?
The words spouting and gutters (or guttering) are often used interchangeably, which can be confusing for homeowners. Spouting and gutters both refer to the means by which water from your roof is collected and channeled away from your home. The term spouting can include the gutters that run horizontally along the roofline as well as the vertical downspouts and related pipes that capture and direct water run-off.
DO I NEED NEW SPOUTING, NEW GUTTERS, OR BOTH?
Controlling and directing water run-off from your roof involves an entire system of components, which include spouting and gutters. If you're having a problem with leaky or broken spouting, fallen or damaged gutters, or you're simply ready to replace or update the entire system, give us a call. One of our spouting and gutter experts can visit your home to assess the condition of your spouting and gutters and recommend the best solution for your needs and budget.
Seamless Spouting and Gutters
Spouting and gutters are important features of your home that protect it from dampness, material rot, and mold by helping to prevent the walls and foundation from being exposed to water and moisture. Century Home Improvements enhances this protection even further by only installing seamless spouting and gutters. Seamless installation is a great option for your home because it eliminates seams along the spouting and gutter lines, and thereby minimizes opportunities for leaks.
Protecting Your Home's Exterior with the SnapLock System
Our gutter installation experts use the SnapLock gutter system, which protects your home by attaching the gutters to the fascia without drilling unsightly holes. Screws are placed through the system, rather than through the gutter itself, and the gutter is snapped into place. The Snaplock system is also free-floating, so it allows for natural expansion and contraction as the weather changes.
Why Century
At Century Home Improvements, we provide skilled, certified tradespeople with years of experience installing spouting and leaf guards to every project. We're Central PA's trusted spouting contractor. More than 80 percent of our business is returning customers, and we rank in the top 300 nationally among home improvement companies. We guarantee our workmanship for 1 year, and our leaf guards comes with top-of-line manufacturer warranties.