Never clean out your gutters again with Gutter Helmet.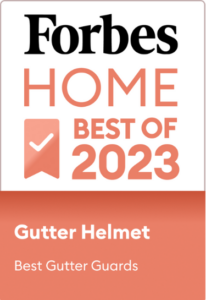 If your home's gutters are constantly clogged, filled with leaves and debris, and regularly require your attention and cleaning, Gutter Helmet® is the solution. The system works by causing leaves and debris to fall to the ground to keep your gutters clear. This saves you time you might otherwise spend on cleaning your gutters, and it keeps you off the dangerous ladder. Our professional technicians can install Gutter Helmet over new or existing gutters, and you can choose a style and color that complements the appearance of your home.
No gutter cleaning required
Leaves and debris fall to the ground
Installs over new or existing gutters
Style and color options
Lifetime guarantee
Leading Gutter Protection Contractors
Century Home Improvements has installed this proven gutter protection system on more than 15,000 homes. Our team is Gutter Helmet certified, meaning our work and your warranty are good for life.
What benefits can I expect from the Gutter Helmet gutter protection system?
There are many benefits to installing our gutter protection system:
keeps your gutters free of clogs;
ensures that dirt, leaves, needles and debris roll right off of your roof and stay out of your gutters;
prevents icicles and ice dams by keeping gutters free of debris;
deters infestation by birds, animals and insects;
protects your home's foundation and landscaping by directing rainwater away from your home;
protects against harmful mold, mildew and rot caused by water gathering in your gutters and seeping under your fascia and eaves; and
perhaps most importantly, keeps YOU off of that dangerous ladder!
Call us today for an estimate. We would love to help you to find the right gutter solution for your home.