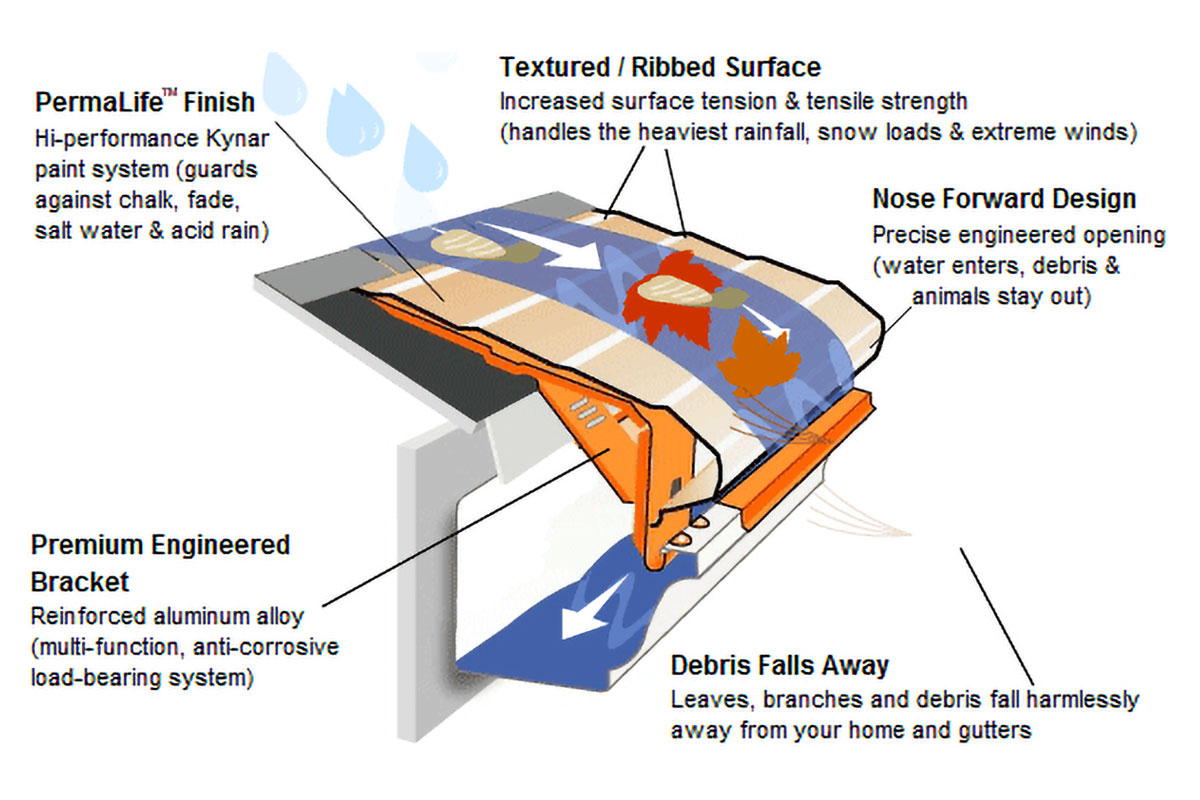 How Gutter Helmet® works.
Gutter Helmet works by causing debris that would normally enter into your gutters to fall to the ground instead.  The nose-forward design is engineered to allow the inflow of water while simultaneously preventing the entry of leaves, sticks, and other debris.
Gutter Helmet is one of the most effective products on the market for preventing leaves, seeds, branches, and other organic matter from accumulating in gutters and blocking water flow. Built to withstand wind speeds of up to 130 miles per hour, Gutter Helmet stays put and protects your home from the mold and mildew, landscape erosion, and cracked foundations that are often the result of clogged gutters. Gutter Helmet is also made to handle twice the amount of rain (22 inches per hour) ever recorded by the National Weather Service.
Gutter Helmet is specially designed to blend seamlessly into your roof line and offers 11 colors to choose from. Our professional technicians can install Gutter Helmet over new or existing gutters, and you can choose a style and color that complements the appearance of your home.
Gutter Helmet® Features & Benefits
Gutter Helmet is the only gutter protection system on the market that offers all of the following:
Triple Lifetime Warranty.
Patented nose-forward design.
Textured and ribbed surface.
PermaLife™ finish.
Heavy-duty mounting brackets.
And if you've ever had to muck out a clogged gutter, you already know one of the biggest real-world benefits of having Gutter Helmet installed: you'll never have to do the job yourself!
Gutter Helmet® Installation
Century Home Improvements is a Gutter Helmet factory-trained and certified dealer. Every installation includes a careful assessment of your roof, gutters and fascia boards as well as gutter tune-up and realignment.