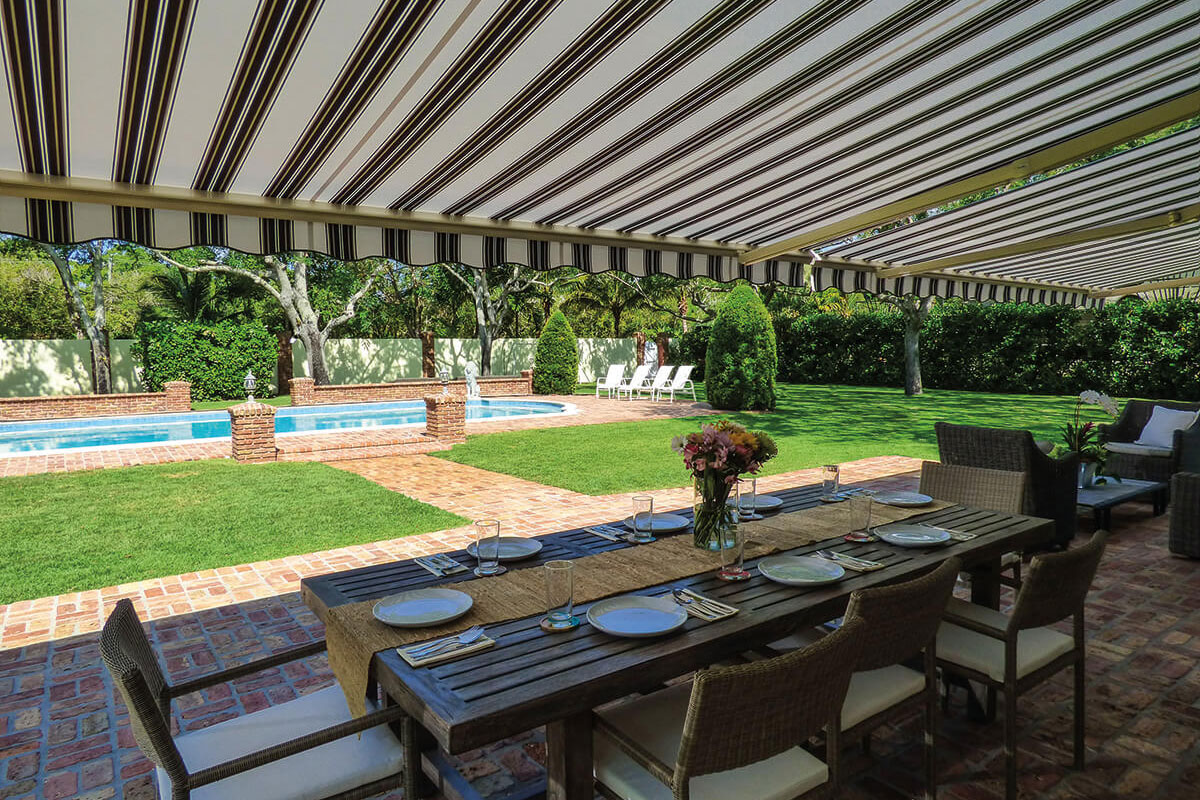 7 Reasons to Consider Adding a Retractable Awning to Your Outdoor Living Space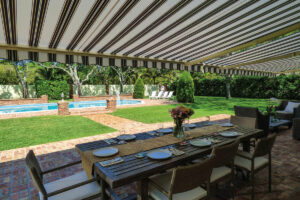 As people spend more time at home, homeowners are exploring more ways and more spaces to entertain family and friends outdoors. One of the biggest challenges to planning outdoor activities is always the weather, but retractable awnings offer a lot more than just shelter from the rain. To show you all of the great benefits of retractable awnings, we asked our team of awning experts to share what they think are some advantages to adding a retractable awning to your home.
#1 The ultimate sunblock
In the summer sun, decks and patios can be brutal without the relief and protection provided by some shade. A retractable awning can help to cool down your outdoor space by as much as 20 degrees, and it allows you to enjoy its sublocking protection without having to slather on sunscreen.
#2 No more rain dates
A retractable awning allows you to be outdoors on your deck or patio virtually anytime, even when it's raining. The rooflike surface repels water and directs it away from your outdoor space, so you can plan and enjoy outdoor activities without the worry of getting rained out.
#3 Makes your home feel bigger
Homeowners love the added space provided by an outdoor deck or patio, and complementing that space with a retractable awning makes it feel even more like an extension of the home. It also makes it easier to plan outdoor events and activities with a larger number of guests without having to worry about the weather.
#4 Saves energy indoors
Windows and doors that receive the shade created by a retractable awning help to control the temperature inside the home. In the hot summer months, retractable awnings can help to lower the indoor temperature by shading areas that would otherwise receive direct sunlight. Conversely, in the winter months, the awning can be retracted to allow the sunlight in to help heat the home. So, no matter what season of the year, retractable awnings can help you lower your energy costs.
#5 Protects outdoor furniture
When creating a comfortable deck or patio space, homeowners often invest in higher quality furniture beyond just lawn chairs. A retractable awning can help make your new outdoor furniture last longer by protecting it from daily sun exposure. It can also help to keep your furniture clean by blocking leaves, twigs, and other debris from collecting on surfaces and staining fabrics.
#6 Wind? No worries.
Retractable awnings give you complete control of your awning on windy days, as you can simply return them to their retracted position on days when winds are high or gusty. Retractable awnings can also be equipped with an optional wind sensor that will automatically retract the awning when winds are high.
#7 Outdoor movies anytime
One increasingly popular benefit of a retractable awning is creating a shady space to watch movies outdoors. Whether you have a movie screen or a flat white sheet for projecting your favorite movies onto, a retractable awning can provide the shade you need for outdoor viewing.
Start creating your unique outdoor space today.
Take the next step to creating your ideal outdoor living space and call Century Home Improvements today or request an estimate online.