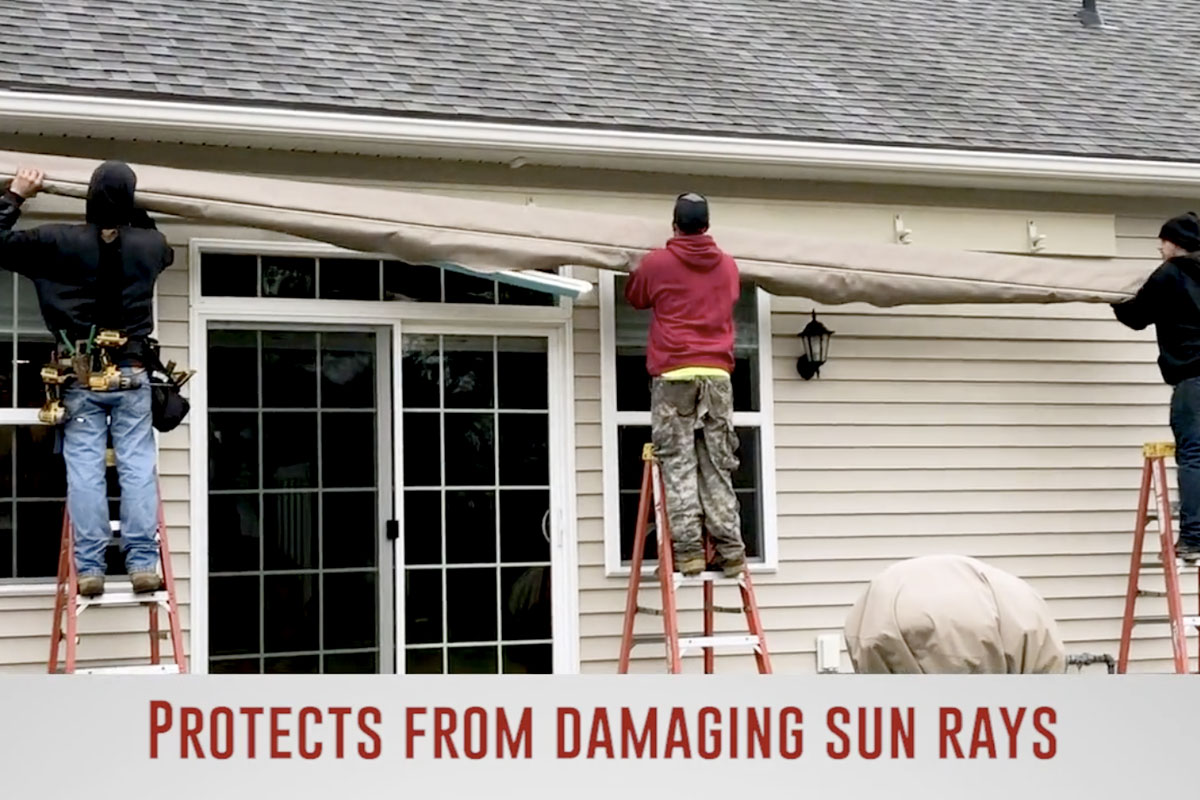 Five Benefits of Installing a Retractable Awning
1. Reduces Cooling Bills in Your Home
Awnings limit direct sunlight and therefore help you save on energy bills. Having an awning can decrease your AC bills by 20% during the summer. Awnings can also shade your outdoor AC unit in the summer to keep it cooler for energy efficiency.
2. Protects Furniture and Flooring from Sun Damage Inside Your Home
Installing awnings can protect your indoor and outdoor space from the weather, prolonging the longevity of your outdoor furniture by preventing exposure to direct sun, snow, and rainfall that can cause deterioration and discoloration. Awnings can also help prevent the UV rays from coming in through your windows, damaging your indoor furniture or flooring that may be getting exposure
3. Reduces the Surface Temperature of Your Deck or Outdoor Space
One study found that in direct sunlight, composite decks can reach temperatures from 34° to 76° F hotter than the surrounding air. So, on an 80° day, that could mean a deck surface temperature reaches more than 150°. By installing an awning over your deck space, you can keep the surface temperature down allowing you and your pets to safely walk on and enjoy your outdoor space.
4. Reduces the Air Temperature of Your Outside Space
In the summer, you may want to invite your friends over or let your kids play outdoors, but are worried about the effects of prolonged sun exposure! Adding a retractable awning to your outdoor space can help increase your comfort by decreasing the temperature by 20 degrees and decreasing the number of UV rays beating down on you. You can enjoy warm weather or rainy days under the protection of an awning. It opens up a whole new space for outdoor living.
5. Warms Your Home in The Winter
During the winter you can keep your retractable awning closed allowing more sunlight inside your home. This will help increase the temperature inside your home and keep your heating bill down.
Why Choose Century Home Improvements as Your Awning Dealer?
Other awning dealers install the awning to the side of your home, which can cause damage over the years from water, vibrations, and the weight of the awning. Century Home Improvements goes the extra mile by securing a 2×8 header board to your wall framing to reinforce the side of your house. We then seal it off with siding to protect it from water and make it blend in with the awning then install the brackets to this 2×8 board.
What Brand Awnings Does Century Home Improvements Sell and Install?
Century Home Improvements technicians are experienced in selling and installing retractable awnings from Sunsetter, Craftbilt, Sunesta and Durasol.